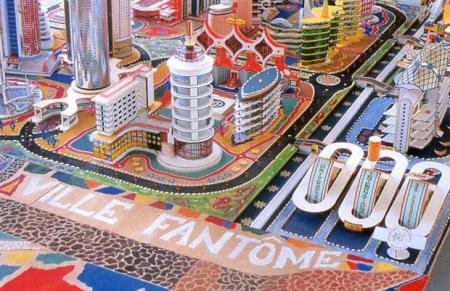 Bodys Isek Kingelez
The first time I came across this artist, I was at Alessandro Mendini's studio and I wouldn't say this was a coincidence. BODYS ISEK KINGELEZ is an African artist, from Congo, who doesn't have any prior experience neither as architect nor an artist. Nevertheless, the lessons of Mendini, Sottsass, re-design, Memphis, radical design and so on, seem to have had a deep influence on him... they say that when he got fired from his job he started to construct hundreds of architectural models, colorful and fantastical models made with plastic, cardboard, aluminum foil and bottle caps. What first captures the attention of the observer are the shapes of these constructions. Shapes that cannot be traced back to a precise style, for it surely isn't african, nor european, nor asian. Yet when observing carefully it would seem that all these styles are merged together in one. I would even dare say that there are traces of something russian, and certainly that has very little to do with Africa. Depicting a utopian vision that puts everything on the line, we cannot consider it a coincidence that we find before us extreme maquettes (the term attributed to the models). The desire to create perfect cities free of weapons, police and politics, cities where all people are equal and live in peace, away from the confusion of the metropolitan, polluted and corrupted realities. The artist dedicates his first work to his home town Kimbele Ihuanga; it is not a single building model, but an entire complex of architectures (1994), a true city with streets, skyscrapers, bridges and ports... All this color, should it make us happy? Perhaps it should, but it also speaks of the hope for a better world, this better world is Kingelez's true wish. Before art and before architecture, comes the hope for the best possible change.
Recent comments
Aimee is extremely beautiful and sexy! That is one person I would love to meet.

Roberto (Marone) provo una certa necessaria, tristezza nel leggere e condividere quanto ...

Si, Roberta è possibile acquistarla.
Basta effettuare un versamento di 139€ sul conto ...

Salve, volevo un informazione se possibile, la tenda magnetica dov'è possibile acquistarla?? ...

Grazie per il vostro articolo ! Buon proseguimento per il tuo sito

Personalmente avrei concluso sul
"cuore della faccenda".