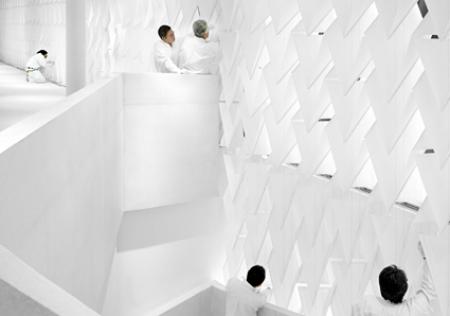 Yamamoto di bianco vestito
Uno scrigno di carta. Uno spazio invaso da bianco, silenzio e leggerezza. Nel cuore della Parigi 'Couture', troppo spesso bling-bling (come usano dire i francesi), finalmente uno spazio interessante: un negozio intimo e discreto (nonché sorprendente), che si priva delle vetrine lasciandosi rivestire di shojigami, immensi origami di carta (shoji, appunto): leggera e sottile architettura che filtra la luce e lo sguardo. All'interno, tutto è candore e silenzio: solo cinque figure, colorate e scultoree creazioni, ci accolgono levitando in un dondolio accentuato dalla luce che le disegna, avvolgendole. Uniche note di colore in una sinfonia di soli bianchi. Infine, una scala sinuosa scivola su e giù, dischiudendo davanti agli occhi la vera ragion d'essere di questo spazio onirico. Sopra e sotto ci si allontana dalla raffinata poesia architettonica del piano terra, ma in fondo, fa parte del gioco.
Recent comments
Aimee is extremely beautiful and sexy! That is one person I would love to meet.

Roberto (Marone) provo una certa necessaria, tristezza nel leggere e condividere quanto ...

Si, Roberta è possibile acquistarla.
Basta effettuare un versamento di 139€ sul conto ...

Salve, volevo un informazione se possibile, la tenda magnetica dov'è possibile acquistarla?? ...

Grazie per il vostro articolo ! Buon proseguimento per il tuo sito

Personalmente avrei concluso sul
"cuore della faccenda".