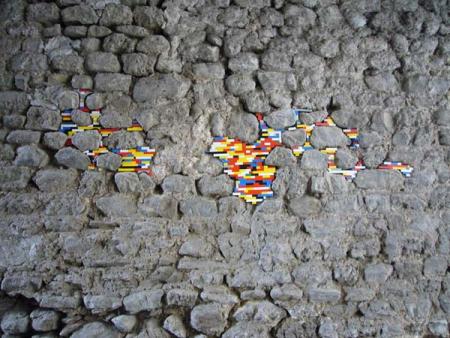 Jan Vormann
I would like to bring to your attention four particular pieces of art created by a certain artist named Jan Vorman. German, class of 1983, and I insist on personal data because we here at Pata are concerned with good ideas and work, not names. The first piece is a diversion, the German flag becomes completely white, perhaps it surrenders and in doing so it magically goes back to being the German flag.
Even more conceptual, and formal, is the work that uses the walls of a little old town close to Rome called Bocchignano. The aim is not really the wall but the empty spaces that the old walls filter through their uneven stones. Jan fills these spaces with Lego blocks, all same in shape and different in color, creating unique harmony between chaos and order inside the town. The third piece plays with mirrors. The achieved effect is exactly what can been seen from the photos. He toys with our need to rely on our senses: we don't believe it until we see it, and even if we know that's the game, we fall for it anyway. Just like a virus that damages an image, changing its contents and leaving its shape intact.
With a straight face, he gives us instructions on how to make a tie knot. I finally made it!
Recent comments
Aimee is extremely beautiful and sexy! That is one person I would love to meet.

Roberto (Marone) provo una certa necessaria, tristezza nel leggere e condividere quanto ...

Si, Roberta è possibile acquistarla.
Basta effettuare un versamento di 139€ sul conto ...

Salve, volevo un informazione se possibile, la tenda magnetica dov'è possibile acquistarla?? ...

Grazie per il vostro articolo ! Buon proseguimento per il tuo sito

Personalmente avrei concluso sul
"cuore della faccenda".