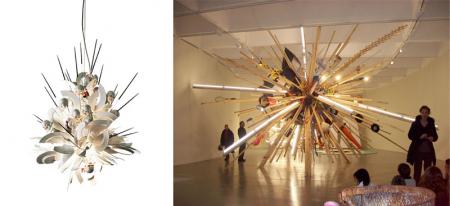 Explosions and black holes
Sometimes confusion arises when the aesthetic component of a design product and that of an art work come together very closely. Moreover in this case we have a product that is conceived already as a small sculpture. The borderline between art and design becomes really fluid here. To the left the lamp "porca miseria!" by Ingo Maurer, to the right the sculpture "black hole" by Björn Dahlem.
Recent comments
Aimee is extremely beautiful and sexy! That is one person I would love to meet.

Roberto (Marone) provo una certa necessaria, tristezza nel leggere e condividere quanto ...

Si, Roberta è possibile acquistarla.
Basta effettuare un versamento di 139€ sul conto ...

Salve, volevo un informazione se possibile, la tenda magnetica dov'è possibile acquistarla?? ...

Grazie per il vostro articolo ! Buon proseguimento per il tuo sito

Personalmente avrei concluso sul
"cuore della faccenda".