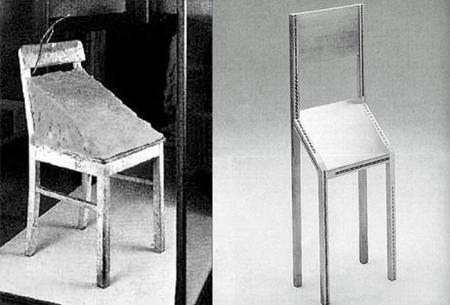 Beuys / Munari
They're a generation apart, from different continents, speak different languages, they have lived in different landscapes, narrated different worlds, generated different cultures. Yet for a moment Beuys and Munari crossed paths. And they spoke of chairs. Not art works, but chairs.
Perhaps this encounter was mere coincidence, but that doesn't matter. What matters is that two distant geographies can come together in one point, and in doing so they communicate while being miles apart. Who knows whether they met in real life, and if they did, who knows how many things would be left unsaid between two people such as these.
Joseph Beuys "Sedia con grasso" 1964
Bruno Munari "Sedia per visite brevi" 1947
Recent comments
Aimee is extremely beautiful and sexy! That is one person I would love to meet.

Roberto (Marone) provo una certa necessaria, tristezza nel leggere e condividere quanto ...

Si, Roberta è possibile acquistarla.
Basta effettuare un versamento di 139€ sul conto ...

Salve, volevo un informazione se possibile, la tenda magnetica dov'è possibile acquistarla?? ...

Grazie per il vostro articolo ! Buon proseguimento per il tuo sito

Personalmente avrei concluso sul
"cuore della faccenda".